So the time has come for you to make the decisions about Aged Care. This could be for yourself or for your family members and you might be thinking to yourself "Where do I start?". You're not alone as in the year 2019-2020, the 'My Aged Care' website received over 4 million visits. You might straight away think of reduced freedom, picturing an older individual restricted in a facility.
It would be fair to say that COVID-19 has also played a major role in us developing this sort of picture after hearing countless stories of aged care individuals being in lockdown at the aged care home and not able to go out. An image like this can make the thought of aged care quite daunting. 
Although this is a reality for many individuals, statistics show that two thirds of consumers access aged care support at home, and only 21% of consumers are actually in residential aged care so there are a range of options apart from a residential facility. You might also be wondering what costs are involved and if you've sufficiently prepared for this or how you or your family will be paying for the expenses. Well, in this article we will explain how our north Brisbane financial advisers can help you with aged care advice.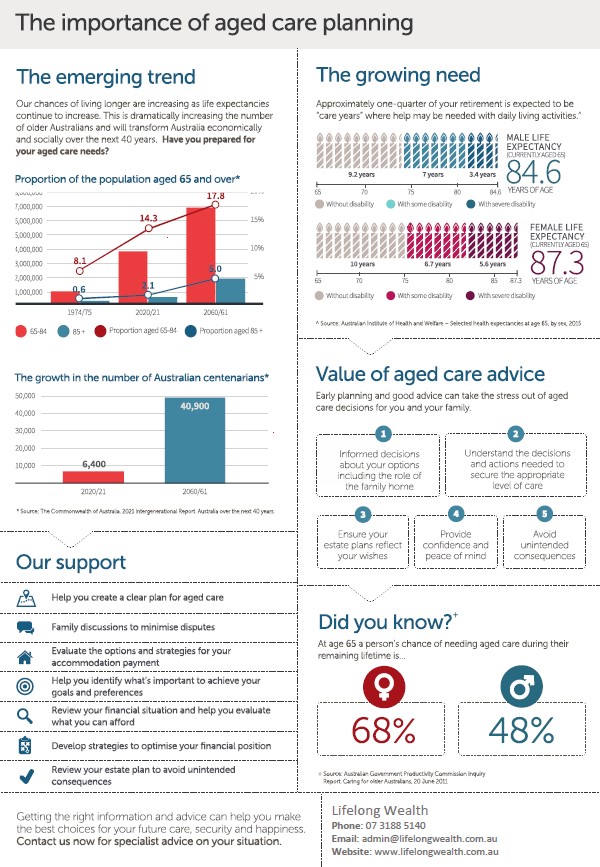 As much as we don't like talking about getting old, it is important to start planning for your Aged Care needs early. This isn't a conversation that should be left for the last moment, or for 'when that day comes' as life changing decisions shouldn't be made on the way home from hospital after a recent fall.
Aged care can be a complex issue as it not only involves practical support such as home modifications and equipment, but it also affects areas such as superannuation, retirement planning and your pension – all areas that need to be thought out properly. That is why it is important that you find an adviser who will discuss these issues with you and provide holistic advice ahead of time. 
Life expectancies are increasing, and people are living longer, so our future for aged care will look much different than what it has been 10 or 20 years ago. The majority of the clients our Strathpine aged care advisers see are confused and worried that their parents cannot afford to go into Aged Care as they now have to plan for expenses for a longer time frame than previously expected. Furthermore, there is a lot of uncertainty for the future regarding how long the age pension will be sufficient for our ageing population. Although there is an increase of funding for home care packages from the government as a response to this, the solutions are not always adequate and extra support is required.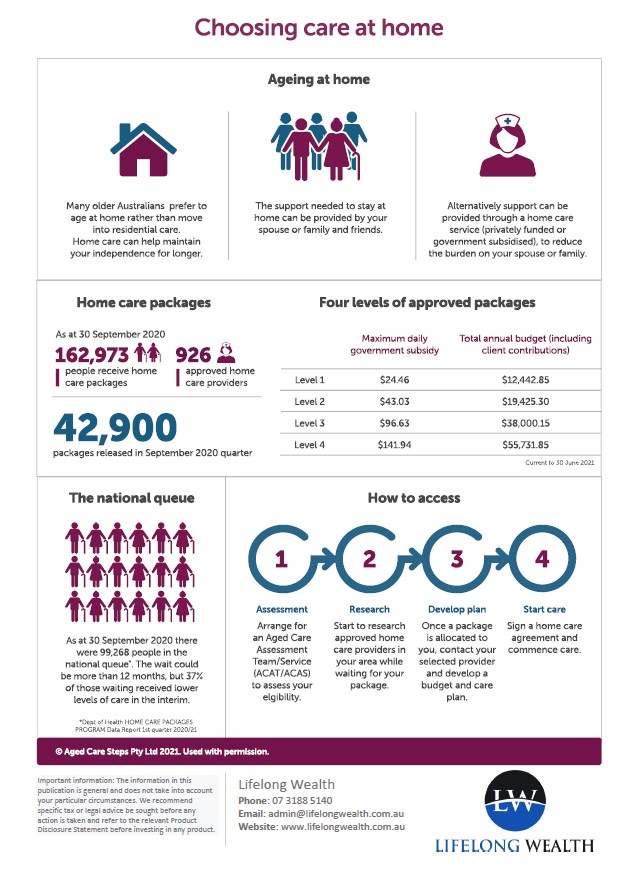 A range of factors will also influence the specifics for your situation such as your superannuation, whether you own your home, current income, and the level of care you require. We will help alleviate some of the stress these decisions and guide you through this process, so it is easier on you and your family. Our advisers will discuss some of the key misunderstandings with you and discuss strategies including:
Discussions around the sale of your home

Paying lump sums 

Centrelink concessions and eligibility for 'low means'

Generating cashflow 
We will give you a clear indication of what you will pay over different fee types, and how much income you will earn (including whether there will be a surplus or deficit). We can also model different strategies to you so that you are able to see the effect it will have on your aged care fees and age pensions payments. We will also provide superannuation advice, discuss estate planning and retirement planning, and provide tips on how to update your Centrelink.
We recommend you come and see one of our aged care advisers here in north Brisbane as both our senior advisers are accredited Age Care Professionals through Aged Care Steps and have expertise knowledge in this area. You can therefore be assured that as you discuss this difficult and stressful topic, you are being looked after by age care advisers that know the industry. 
Book an appointment with us today, or give us a call if you wanted to discuss these services further.